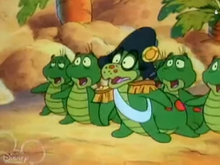 The Bugs are antagonists and Rabbit's enemies, along with the crows. They are six-legged, green with yellow underside caterpillar-like insects that appear in many episodes in The New Adventures of Winnie the Pooh.
HistoryEdit
Edit
Like the crows, these bugs are considered pests to Rabbit's gardenas they try to eat all of his vegetables, especially when they are led by their cunning leader. Also, like the crows, Rabbit has made many vain attempts to get rid of them, but they usually outsmart him and are often driven away by somebody other than Rabbit. They also appear in Rabbit's flashback in Winnie the Pooh: A Very Merry Pooh Year.
Ad blocker interference detected!
Wikia is a free-to-use site that makes money from advertising. We have a modified experience for viewers using ad blockers

Wikia is not accessible if you've made further modifications. Remove the custom ad blocker rule(s) and the page will load as expected.