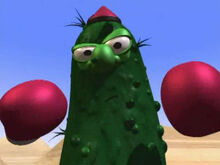 Goliath is the main antagonist of the VeggieTales episode, "Dave and the Giant Pickle". He is the giant pickle who challenges the Israelites to see if anyone could defeat him. He is the giant that the Philistines depended on. In the episode, he is defeated by a shepherd boy named Dave. He is defeated by a stone in a sling, and at first he seems dazed, and falls to the ground unconscious. He symbolically represented the biblical giant Goliath and his defeat is similar to the story. In the original Bible story, his head is sliced off by David after he is hit in the head with the stone. However, since VeggieTales is a show for children, the head slicing isn't present.
Ad blocker interference detected!
Wikia is a free-to-use site that makes money from advertising. We have a modified experience for viewers using ad blockers

Wikia is not accessible if you've made further modifications. Remove the custom ad blocker rule(s) and the page will load as expected.