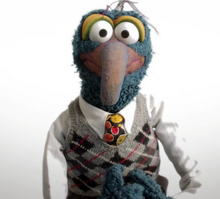 Gonzo, formally known as "The Great Gonzo" or "Gonzo the Great," is the resident daredevil performance artiste on The Muppet Show. He is an odd looking, unclassifiable creature with blue fur, bug eyes, and a long crooked nose. He takes pride in his uniqueness and enjoys everything that he does -- no matter how painful of ill-advised it may be.
Ad blocker interference detected!
Wikia is a free-to-use site that makes money from advertising. We have a modified experience for viewers using ad blockers

Wikia is not accessible if you've made further modifications. Remove the custom ad blocker rule(s) and the page will load as expected.