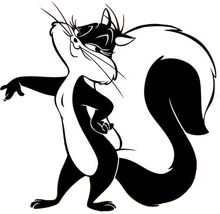 Penelope Pussycat is a fictional character, an anthropomorphic cat featured in the Warner Bros. classic Looney Tunes animated shorts. Although she is typically a non-speaker, her "meows" and "purrs" were most often provided by Mel Blanc using a feminine voice. In the 1959 short Really Scent, she was voiced by June Foray. As of 2013, her only real speaking role was in the 1995 short Carrotblanca, where she was voiced by Tress MacNeille. It can be postulated with the inconsistencies in her naming that every sighting of her is simply a random black cat until "Penelope Pussycat" was named on screen in Carrotblanca using the black cat animation.
Ad blocker interference detected!
Wikia is a free-to-use site that makes money from advertising. We have a modified experience for viewers using ad blockers

Wikia is not accessible if you've made further modifications. Remove the custom ad blocker rule(s) and the page will load as expected.