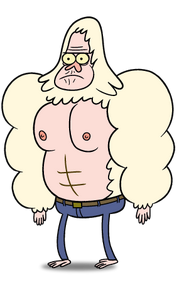 Skips, formerly known as Walks, is the fifth main character of Regular Show. He is a yeti who works at the park as a groundskeeper. He helps Benson a lot, and fixes many of the mistakes that Mordecai and Rigby make. He is very wise, and has a knowing of many things to those of the unknown, due to his past of immortality. Skips made his first appearance in the pilot. Skips is voiced by Mark Hamill.
Ad blocker interference detected!
Wikia is a free-to-use site that makes money from advertising. We have a modified experience for viewers using ad blockers

Wikia is not accessible if you've made further modifications. Remove the custom ad blocker rule(s) and the page will load as expected.